Updated in 2023
In such a big city like Cape Town finding a place to stay is not that hard, but finding a great place to stay when you have a tight budget might be a bit harder. And for exactly that reason this easy guide has been made to offer you some great suggestions on where to spend the night.
1. Villa Viva
This backpackers has been selected as one of the world's 10 coolest hostels according to the Guardion.co.uk, and also voted as South Africa's number two hostel by Hostelworld.com. This means they are definitely doing something right.
They offer you affordable and stylish rooms, and facilities such as an internet café, on site ATM, swimming pool, and bar. Also you have the option to store your baggage there for a few days if you are going on a trip, and they have a coin-operated laundry machine for all your washing.
They also host events every week and month that connect guests to Cape Town community and bring music and art to the hostel.
"Villa Viva is not just a hostel, it is a place to connect, learn, think collectively and make real friends, It's a place for TOGETHERNESS"
Address: 74 New Church St, Tamboerskloof
Cape Town 8001, South Africa
‍
contact@villaviva.capetown
https://www.villaviva-capetown.com/ 
2. Long Street Backpackers
Long Street Backpackers is a well-known and lively hostel situated on the iconic Long Street. It's a hub for budget travelers looking for a social atmosphere and easy access to Cape Town's nightlife and attractions. The hostel offers dormitory-style rooms with basic amenities and communal spaces where travelers can connect and share stories.
This is best for budget backpackers who are looking to make friends and experience the nightlife in Cape Town.
Address: 209 Long Street, Cape Town, 8001, South Africa
Website: longstreetbackpackers.com
Contact: info@longstreetbackpackers.co.za | +27 21 423 0615
3. never@home 

Never@home is a modern and vibrant hostel situated in the heart of Cape Town. It's known for its lively atmosphere, comfortable accommodations, and a range of facilities and amenities that cater to both budget-conscious travellers and those seeking a social environment.
The hostel's location is typically a short distance from popular attractions, restaurants, cafes, and the city's vibrant nightlife. This makes it convenient for travellers to explore Cape Town and its surroundings.
Address: 107 Main Rd, Green Point, Cape Town, 8005
Email: info@neverathomehostels.com
Phone: +27 21 434 9282
4. Ashanti Lodge Gardens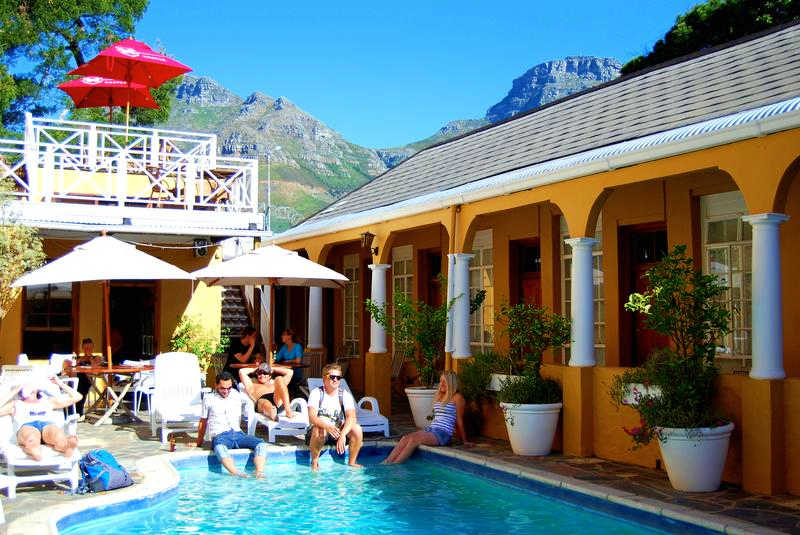 Ashanti Lodge Gardens is a cozy and welcoming hostel located in the Gardens neighborhood. The hostel offers a range of accommodation options, from dormitories to private rooms. It's known for its tranquil garden setting and its proximity to popular sites like the Company's Garden and the bustling Kloof Street.
Address: 11 Hof Street, Gardens, Cape Town, 8001, South Africa
ashantilodge.com/gardens
Contact: gardens@ashanti.co.za 
+27 21 423 8721
5. The MOJO Hotel 
The Mojo Hotel offers a unique combination of hostel-style accommodation and hotel comfort. The hostel features a variety of rooms, from shared dormitories to private rooms with en-suite bathrooms. Guests can enjoy the vibrant Mojo Market, which is a bustling food and retail space located on the premises. The location, near the Sea Point Promenade, is a major draw for visitors.
Address: 30 Regent Road, Sea Point, Cape Town, 8060, South Africa
Website: mojohotel.com
Contact: info@mojohotel.com | +27 21 439 9880